Yes, You Can See a Chiropractor for Headaches
Yes, You Can See a Chiropractor for Headaches
Written By Longview Chiropractic Center on May 21, 2021
---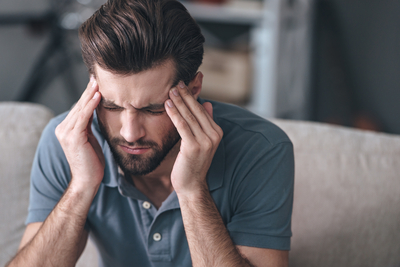 Dr. Gary Lipkin of Longview Chiropractic Center has helped countless patients in and around the Longview area achieve true relief from headaches. This is possible because most headaches are triggered by either a spinal, muscular or lifestyle habit, all of which a chiropractor can treat.
Chiropractic and Headaches
When it comes to headaches, many of them are due to tension. And without your knowing, you could have a lifestyle that creates tension, be it from poor posture, unhealthy workplace ergonomics, or other reasons. Headaches are often a signal that something needs to physically change.
Headaches are also a sign that something's going on internally that needs fixing. The good news is that headaches are right up our chiropractors' alley. Spinal manipulation is highly effective at relieving tension headaches, along with those that originate from an issue in the neck.
A 2014 report in the Journal of Manipulative and Physiological Therapeutics gathered evidence showing that chiropractic can treat both chronic and acute neck pain that triggers both headaches and migraines. Many forms of headaches stem from tension originating in the neck that is felt via headache and/or migraine.
Researchers in this 2017 article gathered 17 months worth of data from over 100 patients who underwent chiropractic for migraines. Data showed that patients experienced significantly shorter migraines by the end of the study.
This meta-analysis of six studies followed just under 700 migraine patients who experienced fewer migraine days and reduced symptom intensity through regular chiropractic care.
Making regular chiropractic care part of your routine is a great way to protect yourself from headaches. We have adjustments that specifically target tension, allowing your body to calm inflammation, increase blood flow, and loosen your muscles.
Get Chiropractic Care for Headaches in Longview
For decades, Dr. Lipkin has been treating patients with headache and migraine issues. Dr. Lipkin attends multiple annual seminars to stay ahead of the curve on new chiropractic techniques and services to better serve his patients. He wholly embraces the truth found in the Thomas Edison quote, "The doctor of the future will give no medicine, but will interest his patients in the care of the human frame, in diet, and in the cause and prevention of disease."
Have questions or need to schedule an appointment Call Longview Chiropractic Center at (903) 234-2225 or go online and fill out our contact form.

Posted In: Chiropractic Headache Treatment