Play It Safe and See a Chiropractor if You've Been in an Auto Accident
Play It Safe and See a Chiropractor if You've Been in an Auto Accident
Written By Longview Chiropractic Center on June 21, 2021
---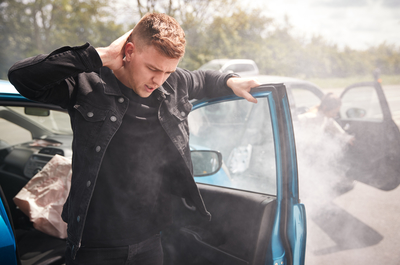 It's estimated that motor vehicle accident injuries account for 45 percent of all neck and neck and back pain as well as 24 percent of all cases of lower back pain. According to the American Chiropractic Association, around 31 million Americans experience lower back pain at any given time.
Dr. Gary Lipkin of Longview Chiropractic Center wants you to come in quick to get a full exam no matter how small the accident.
Car Accident Injuries Can Start off Invisible
Car accidents are a stressful adrenaline rush that triggers fight-or-flight mode. Feeling pain is secondary to survival. This survival reaction delays the onset of pain.
Some Auto Injury Statistics
Motor vehicle accidents as low as 2mph are enough force to cause a whiplash injury to the spine.
It is estimated that 15-40% of people injured in an auto accident will suffer from ongoing chronic pain.

Two-thirds of auto accident injuries are whiplash.

Whiplash symptoms don't develop until up to two days after injury.

Data shows that 45-85% of whiplash victims can still be suffering five years later, most of them due to the spine losing its correct curvature.
Pain or no pain, resist the urge to grow complacent. Get yourself checked out. It can take months for injuries to manifest. We can give you red flags to look for and our documentation is critical should you need to take legal action.
We want to see you as soon as possible in case you have a concussion and/or whiplash injury. Both of these are serious injuries no matter how minor they may seem due to their ability to turn into chronic issues. Whiplash can pinch nerves and spread into a shoulder injury. And any concussion can trigger memory issues, chronic headaches, and more.
Get Chiropractic Care for Auto Injuries in Longview
For decades, Dr. Lipkin has been treating auto accident injuries. We work with your body to provide pain relief, restore mobility, and optimize healing. Dr. Lipkin attends multiple annual seminars to stay ahead of the curve on new chiropractic techniques and services to better serve his patients.
He wholly embraces the truth found in the Thomas Edison quote, "The doctor of the future will give no medicine, but will interest his patients in the care of the human frame, in diet, and in the cause and prevention of disease."
Have questions or need to schedule an appointment Call Longview Chiropractic Center at (903) 234-2225 or go online and fill out our contact form.

Posted In: Auto Injury Treatment Chiropractic Whiplash Treatment Whiplash Headache